Bernard Richard (Dick) Laaken
Brother Laaken was born at home in Marcus Hook, PA, to German immigrant parents on 27 May 1936. In 1940, the family moved to Wallingford, PA where he attended elementary and high school.
After taking a year off to sail on oil tankers in the Merchant Marines, Dick received his Bachelor's Degree from Lehigh University in Bethlehem, PA in 1959. In September 1959, he enlisted in the US Army Reserve. Upon completing his training he joined Merck, Sharpe and Dohme Pharmaceutical Company as a Production Supervisor.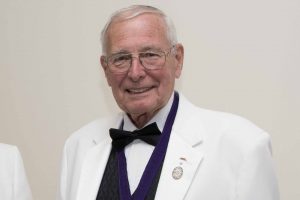 In September 1961, his reserve unit was activated for the Berlin Crisis. After achieving the rank of Sergeant he attended the US Army Officer Candidate School in 1962 and was commissioned Second Lieutenant. His first duty assignment as an officer was in Germany where he met and married his wife Barbro, who was from Sweden and a medical student at the University of Wurzburg.
During his 32 years of active military service, Dick had two tours of duty in Germany, one tour in Vietnam in 1968-1969 with the 25th Infantry Division, and two tours of duty in the Pentagon, one on the Army Staff and one in the Office of the Secretary of Defense. He also commanded at the company and battalion level.
He attended the US Army Command and General Staff College and remained there three years on the faculty. While there, he attended evening classes at the University of Missouri – Kansas City, and received his Master's Degree. He is also a graduate of the Industrial College of the Armed Forces, National Defense University, where he returned later as Professor and subsequently served as Dean of Students and Chief of Staff.
Dick retired from active duty as a Colonel October 1991, but continued to serve in uniform as a Senior Army Instructor in the Junior ROTC Program at St. John's College High School for seven years and subsequently at Giessen High School, a DOD school in Germany for five years. In 1993, he was inducted into the US Army Officer Candidate School Hall of Fame.
Dick's Masonic journey began at Ft Leavenworth, KS where he was raised to the sublime degree of Master Mason in June 1976. He received his Scottish Rite Degrees in the Armed Forces Scottish Rite with courtesy work conducted by the Alexandria Valley of Scottish Rite in April 1979.
While in Germany, Dick affiliated with Friends on the Lahn Lodge in Giessen, Germany and served as Master 2002-2003. After returning to the US, Dick affiliated with Andrew Jackson Lodge 120 and has become Life Member in Perpetuity and Trustee. He has also served as District Education Officer in District 1A 2012 – 2017. In November 2017 he was appointed District Deputy Grand Master for District 1A for Masonic year 2018.
Dick transferred his Scottish Rite membership to Alexandria Valley in 2010. In September 2015, he was invested with the rank and title of Knight Commander Court of Honour. In 2017 he served as Commander of the Alexandria Council of Kadosh. Dick is also a member of Arlington Hall Chapter 440, National Sojourners; Mt Vernon Royal Arch Chapter 40; and Old Dominion Commandery 11, Knights Templar.
Dick and his wife of 52 years, Barbro, currently reside in Alexandria, VA, where he pursues his hobbies of kayaking, fishing, gardening, cooking and traveling.